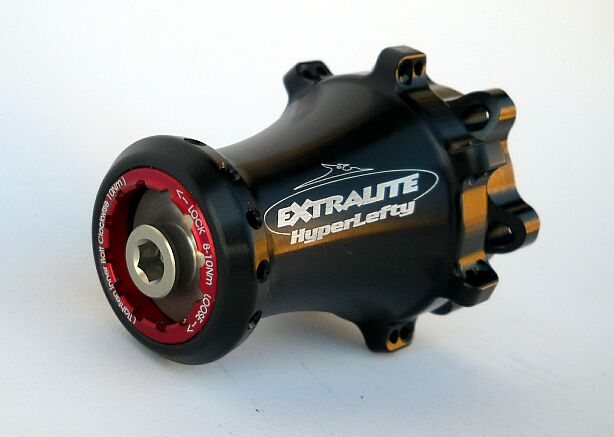 Extralite Hyperlefty Front Hub
Engineered to fit precisely the original Lefty standards, turn your Lefty wheel into the right thing with the Hyperlefty Hub. 
Hyperlefty (Version 1) directly fits Slate (Oliver) and elder MTB forks. It features a very wide spoke camber compared to original hubs, nearly as wide as the newer 2.0 models.
It can also fit Lefty 2.0, Ocho and SuperMax forks using the original adaptor "KH112".
Specifications:
• Black Anodized Body (Graphics: Laser Etched) 
• Drillings: 24, 28, 32 (Straight-Pull)
• Retainer/Extractor Ring: Uni Tool Compatible
• Retainer/Extractor Bolt: "Hart Coat" AL7075
• Bearings: Low-Friction 2RS Stealed Stainless Cartridges
• Compatibility: Lefty 1.0 and 2.0
• Weight: 80g (28H)
Extralite products are 100% designed and manufactured in Italy.