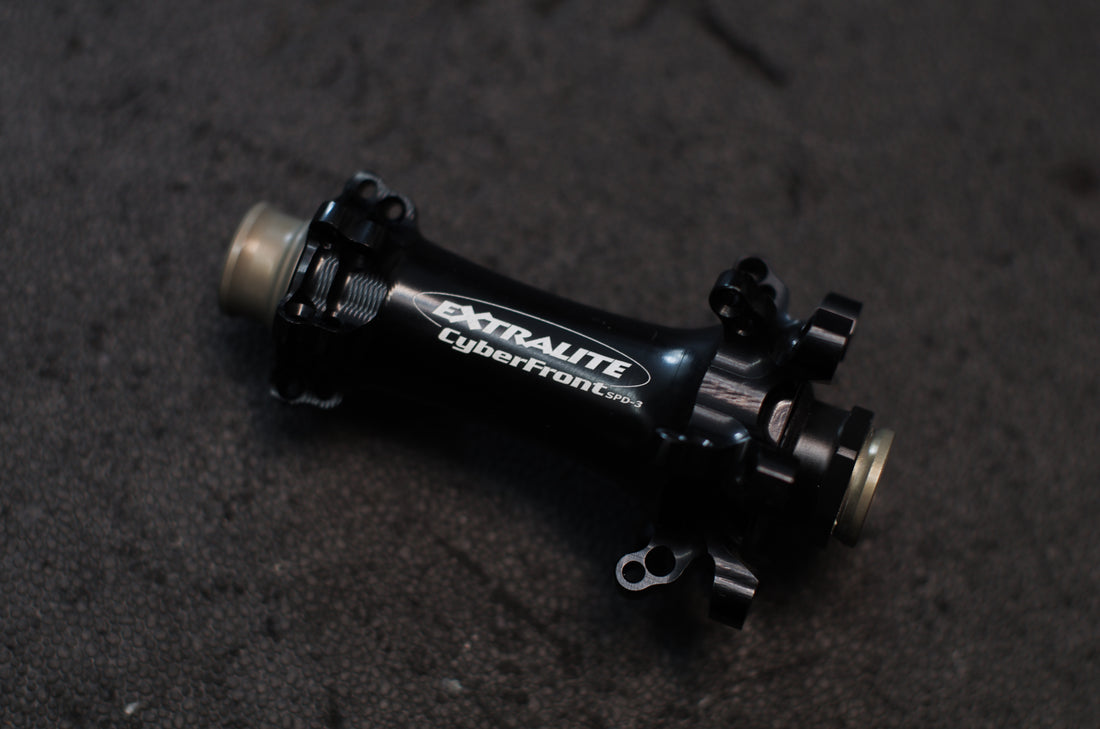 Extralite CyberFront SPD-3 Road Disc Hub
Well known for creating some genuinely unique components designed to be as feathery as possible, Extralite is a leading company on the gram conscious cycling market. Constantly pushing the envelope of what may be possible, Extralite is responsible for producing some of the world's lightest components.
The CyberFront SPD road disc hub from Extralite is undoubtedly one of the most unique looking hubs on that market. With much thought going into it's construction, the CyberFront SPD is the culmination of many years of industry experience. When handling the CyberFront SPD, the first feature any cyclist will notice is the the free floating non-drive side flange. Designed to self align during the lacing and tensioning process of the wheelbuild, the free floating flange reduces torsional static forces, resulting in a more durable wheel. Complete with the minimalist aesthetic originally seen in the CyberFront SP, the SPD is a solid investment fitting for even the most elite builds. As compared to the previous model, the SPD-2 has a better optimized axle construction which is 10% stiffer, QR & 12mm thru axle compatibility and more equalized spoke camber on each side.
Extralite products are 100% designed and manufactured in Italy.
Specifications:
• Weight: 66g
• Spoke number: 24h only
• Material: special 7075TX Bearings: 2x 15-24 2RS ABEC5
• Micro-Tuner: quickest bearing preload system
• Finishing: "hart coat" sides, black anodized body
• Construction: 15mm oversized hi-engineered axle
• Compatibility: 100mm QR and 100mm TA 12mm forks, convertible