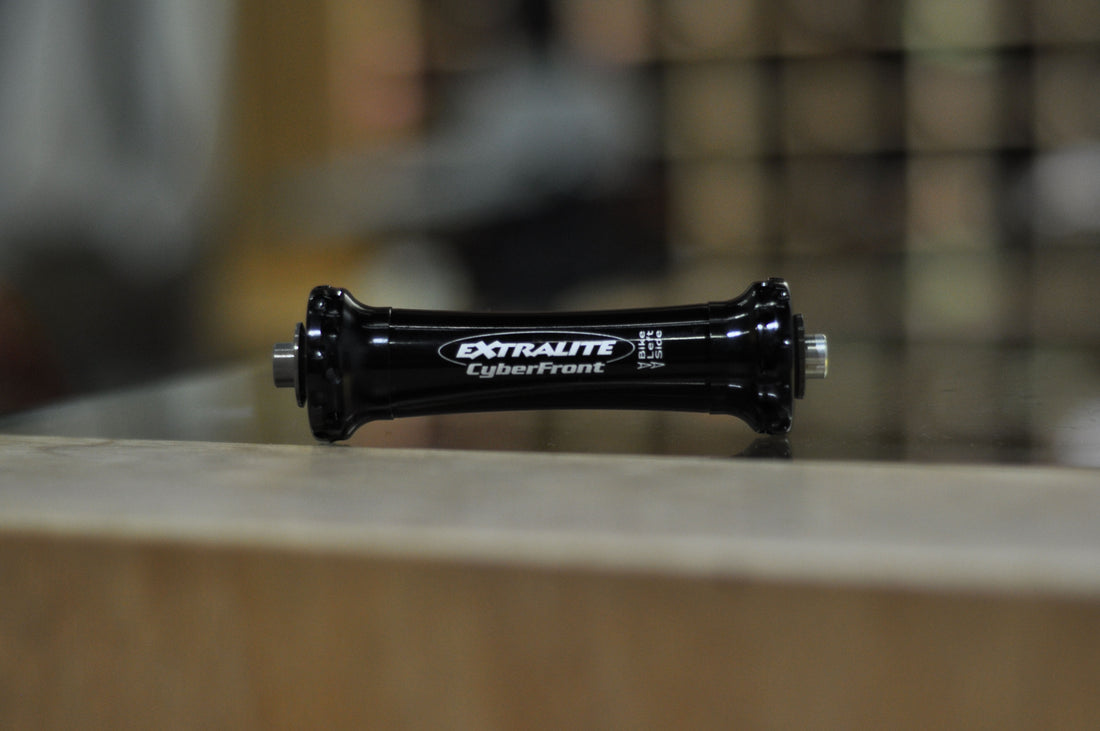 Extralite CyberFront SP Road Hub
As a company known for expertly blending gram shaving technology with minimalist dependability, Extralite has created a name for themselves with some truly unique products. Among their impressive repertoire is the CyberFront SP. Possibly their lightest hub to date, weighing in at a mere 47 grams, the CyberFront SP is the perfect hub for any gram conscious cyclist.
The general shape of the CyberFront SP has been crafted to utilize a wider spoke bracing angle, making each wheel noticeably more rigid and predictable, while remaining aesthetically pleasing. Additionally designed to withstand the stress of radial spoke lacing, each flange is specially heat treated to ensure hub longevity. As a final touch, the axle end caps are hard anodized in an attempt to withstand wear from your bike's dropouts.
At a mere 48 grams, the CyberFront is the go-to front hub for the climber's wheel. Of the few hubs that are lighter than this, none can boast the simple, reliable function and gorgeous execution of Extralite's offering. The self-aligning spoke flanges are manufactured from specially-treated 7075 aluminum to handle to unique stresses of radially laced wheels. These flanges are widely spaced for optimal lateral stiffness of the complete wheel. The CyberFront features a stiff 14mm aluminum axle fitted with common-sized 6801 bearings. As with all Extralite products, the finish work on the hub shell, flanges, and axle is immaculate.
The CyberFront SP features an easily adjustable bearing preload micro-tuner fitted with 17mm wrench flats. This micro-tuner may be adjusted by hand, or with a 17mm box-end or cone wrench. It is imperative that the micro tuner be properly adjusted to avoid damage to the bearings, axle, or the micro tuner itself. Due to the nature of this system, the hub is directional and must be oriented correctly in the fork. The hub shell is marked to indicate proper orientation.
Extralite products are 100% designed and manufactured in Italy.
Specifications:
• Hole Count: 20H, 24H
• Spacing: 100mm 
• Weight: 48g